Hosting the first-ever TEDxKonstanz
Students from the University of Konstanz and the Max Planck Institute of Animal Behavior overcame the difficulties of a pandemic year to host the first-ever TEDxKonstanz event. The four-day conference, held entirely virtually in March 2021, showcased speakers discussing everything from bird flight to painting robots.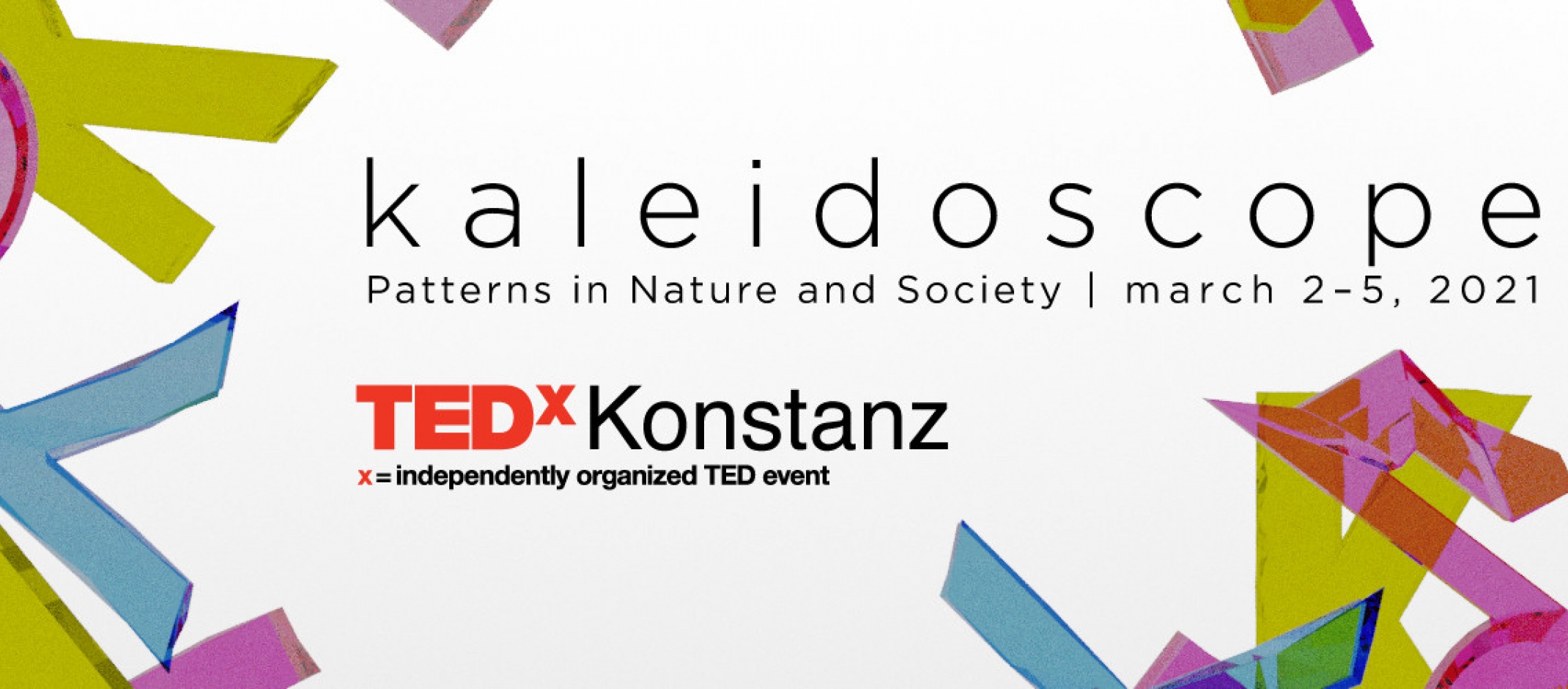 Curious about how the TEDxKonstanz event went? Scroll down for a list of videos from the event.
This year from March 2-5, a team of students brought the spirit of the international TED conference for a locally-organised 4-day event featuring an eclectic line-up of artists and scientists who discussed cutting-edge ideas in science and technology. The event's theme of "Kaleidoscope: Patterns in Nature and Society" focused on the idea of shifting patterns across four topics: art, algorithms, music, and social issues.
A Russian software engineer who uses AI to create artworks (Helena Sarin); a Spanish photographer who transforms ordinary bird flight into otherworldly forms (Xavi Bou); and a US engineer who applies the rules of animal swarms to human dancers (Naomi Leonard) were among the global experts who stepped up to the microphone at TEDxKonstanz to present their twist on the study of patterns.
The line-up also included plenty of local talent drawn from academic institutions in the region. This included Liat Graver, a contemporary artist in Berlin who uses a robot as a tool for artistic creation, and mathematician Jurgen-Richter Gebert (TUM, Munich) who uses mathematics to visualize the geometry of music. From Konstanz, Hubl Greiner, a musician and composer, was in dialogue with Sudanese drummer Mohammed Badawi to share stories of how they use music to build bridges across cultures. From Konstanz universities, economist Anke Hoeffler (University of Konstanz) discussed her work on interpersonal violence in a session with economist Maike Sippel (HTWG) who studies climate change.
But organising an event in the midst of a global pandemic is not for the faint of heart. The organising team, led by PhD student Angela Albi and Post-doctoral researcher Jacob Davidson from the collective behaviour research group at the University of Konstanz and Max Planck Institute of Animal Behavior, faced a steep learning curve during the year of planning.
In this interview, lead organiser Angela and co-lead organiser Jacob discuss what drew them to the theme of patterns, how they pivoted during the pandemic, and why TEDxKonstanz 2021 is just the beginning.

What does the theme Kalaidescope mean to you, to Konstanz, to your discipline?
Angela Albi: What I like about kaleidoscopes is that a simple object with few small moving parts generates ever-changing beautiful patterns, and even when the simple mechanism is revealed, it does not stop surprising the eye that looks into it.
I am fascinated by patterns and I find beauty in geometrical order, shapes and structures in nature. Movement and patterns are key also to what I study for my PhD, animal collective behaviour. One of the first things that revealed my interest for this discipline was the realization of how the interaction of individual components generates mesmerizing patterns, and how some functional characteristics of this organizations are shared across scales of different systems.
"In a similar way we are trying to work on an event that plays with the metaphorical concept of a kaleidoscope, shuffling ideas to create a bigger picture concept that will teach us curiosity towards cutting-edge as well as current topics."

Angela Albi, PhD student at the department of Collective Behaviour at the Max Planck institute of Animal Behaviour
Can you describe the event?
The event brought together people from different disciplines – we listened to talks about animal intelligence and perception, mathematics of music and music across cultures, art and technology, and changes in patterns in society all in the same event which feels a bit 'kaleidoscopic'.  After the talks of each day, we held a discussion panel with participants and the speakers, where we were able to further discuss and make new connections.  We were excited that so many people from Konstanz participated, and not only from the University of Konstanz and HTWG Konstanz, but also from the surrounding area – in all, we had about 500 participants who registered to attend.

Technology is a theme that underpins many of the talks.  Why is tech important to discuss now?
Many, although not all of, the talks use technology to look at things a different way.  From a historical lens, the use of new technologies has always affected the art and science that is currently going on, for example with the invention of the photograph, digital computers, or with the development of advanced PCR methods or CRISPR.  Currently, we see technological advancements with personal computing and artificial intelligence that are affecting nearly all aspects of life, which make them relevant to not only artists and scientists, but everyone living in the modern-day interconnected world.
https://www.youtube.com/watch?v=OCdjTlkfqbk

Day 1: New modes of artistic expression, Talk 2: Liat Grayver – Digital and robotic technologies as tools for aesthetic and cultural emancipation
What was it like organising the first ever TEDxKonstanz event?
As scientists we often participate and organize conferences.  This event was different though, because of the opportunity to meet others outside of our own specialized field.
We found it challenging – but also exciting – to tie together concepts from art, music, and science in the various talks.  This also reflects on working in an international research environment, where it can be enriching to share diverse ideas with people of different backgrounds and experiences.
"Talking to specialists outside of your own field always lends a new perspective on the way to see things."

Jacob Davidson, Postdoc scientist, Department of Collective Behaviour at the Max Planck Institute of Animal Behaviour
https://www.youtube.com/watch?v=KnB-SGHJSWM

Day 2: Music through a new lens: mathematical and cross-cultural patterns, Talk 2: Jürgen Richter-Gebert – Seeing music through the eyes of math

How did you adapt to the current lockdown situation?
When we learned that the event could not be held in person, we were originally very disappointed and considered cancelling the event.  However, we then re-considered, because we saw the digital platform as an opportunity to explore different types of talks than the traditional TEDx format, and to be able to reach a worldwide audience.

What were your favourite parts of each session?
We enjoyed very much the interaction and discussions between the speakers and audience.
We were able to interact live with the speakers from the different fields and discuss how their work connects to studying patterns in different ways.  Other discussion members from the audience brought in further points that we also had not considered before.

What is the future of TEDxKonstanz? How can people be involved?
We applied for a renewal of the TEDxKonstanz event license, so there is possibility of having a TEDxKonstanz event every year.  Our hope is that the next TEDxKonstanz will happen in person.  We are currently looking for others to take over organization of the next year's event, including talk curators, event management, social media advertisement, sponsorship, and other aspects – and also for new lead organizers, as both of us will finish our positions soon.  So, if you are interested, please get in touch with us!  aalbi@ab.mpg, jdavidson@ab.mpg.de 

Anything else?
Check out our website www.tedxkonstanz.com/talks-2021 for all of the talks from this year's event!
https://www.youtube.com/watch?v=XtBDvjykKZo
Day 1: New modes of artistic expression, Talk 1: Xavi Bou – Revealing the hidden beauty of bird flight
By
Carla Avolio

- 22.04.2021